Terms of payment
Bank transfer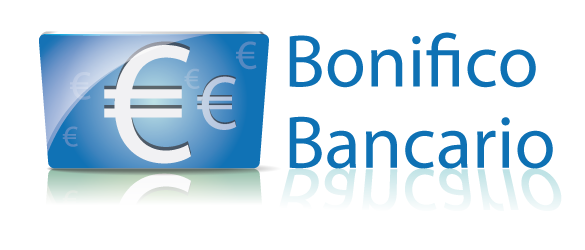 You can pay for your purchases by bank transfer; in this way, the shipping times are increased by 2-3 working days, to verify the receipt of the credit on our current account of the order amount.
Our bank details will be sent via email to the registration email address and in any case will be visible during the order process.
Cash on delivery

You can pay for your purchases in cash on delivery, in this way the costs related to the operation will be added to the order amount, including shipping costs, which are 6.00 euros. The courier accepts payment in cash only , for a maximum value of 999.99 euros. Checks of any kind are not accepted .
Credit card
You can use your Mastercard, Visa, Visa Electron, Postepay, American Express credit card and all major credit and prepaid cards.
Card payments are managed through Stripe, which ensures maximum confidentiality and secure data management; all card numbers are encrypted with AES-256 encryption algorithm, which is the ultimate in encryption security.
Our site also uses the SSL (Secure Sockets Layer) protocol to protect your sensitive data such as your password and credit card number.
Thanks to this protocol, the information is encrypted and protected from any type of attack.
PayPal

PayPal is an online payment service that allows you to make online transactions conveniently and securely. You can pay for your online purchases via PayPal;
When you select "PayPal" as the payment method in the order process, you will be transferred directly to the PayPal page. At the conclusion of the payment you will be redirected to the order confirmation page on our site.
If you already have a PayPal account, you will log in with your e-mail and password and you can confirm the payment.
If you don't have a PayPal account, you can create a new one using your credit / debit card. In this case, simply select the type of card, fill in the necessary data and confirm the payment.
Soisy

Payment by installments Soisy Receive your order immediately and pay the first installment after 30 days from the order, you can choose from 3 installments to a maximum of 15 monthly installments, according to your needs, you can install orders starting from € 250 to € 10,000.

How to do?


choose Soisy at checkout : you will be redirected to their website to complete the order and complete the online request in 3 minutes
choose the number of installments and enter your data and documents , keeping at hand

IBAN of your account to which the installment will be debited
identity document
health card (only in some cases)

sign the contract with a code sent via sms
pay in installments from the month following the purchase .
The requirements to pay in installments with Soisy are:


be a natural person (no loans are granted to legal persons), of age, residing in Italy for at least 3 years
have a regular and demonstrable income
enjoy good creditworthiness (those who have received reports or protests from credit databases such as CRIF cannot request payment in installments with Soisy)
have a bank account (an IBAN must be indicated to which the automatic monthly payment of the installment must be debited, without bulletins or files in the mail)
ScalaPay

Payment in installments by credit card without interest for orders of a maximum amount equal to or less than € 300. Choose Scalapay at checkout. Receive your order immediately and pay in 3 convenient installments of the same amount, without interest.
The advantages of paying with Scalapay
3 simple installments
Pay your purchase in 3 equal installments, expiring every 4 weeks.
0% interest
If you meet the deadlines, you will only pay the cost of the item you purchased, without interest and without additional costs.
Receive your order immediately
The order is shipped immediately while you pay in installments!
Quick and easy
Create an account in 2 minutes, without filling in complex forms